Here's the sitch. I'm missing my real life rpg. (if there is something that can be called a real life rpg? Isn't it like oxymoron, or sth?)
But between my studies,
cala_jane's work and
khali_khan's school... we can't make it work.
So I've commited this.
An Original Character Soundtrack. You don't go much further in Mary-Sueing.

But I've figured that since I've done it, I may as well share the songs with you guys... the additional information as well as the behind-the-scenes notes will be lost on the majority of you, but it's intended for Cala and Khali anyway....

So, let's get on with the show: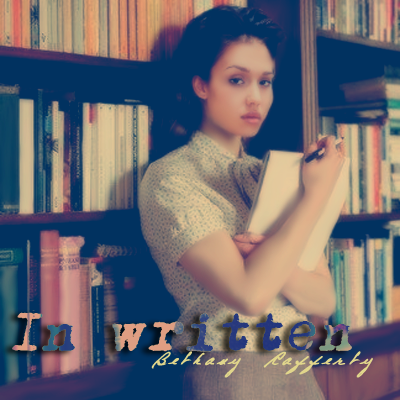 Bethany Rafferty. Her middle name could be Mary Sue, but it's Maude.
She is a Watcher, of course. Couldn't be different, what with her being my character, and all. Working with the Slayer Hate Kallias... uhm, Heather Kallias... Uhm... Hate? What is the official personality now?

They Might Be Giants - Don't Let's Start
D, World destruction / Over and overture / N, do I need apostrophe / T, need this torture

Lara Fabian - I Am
All that I am is what I was and who I'll be / Here where I stand is all I have / And what you see / Take this empty hands / This is all I am
This is the unoficial theme of 'Hate the Vampire Slayer'. I did a video with credits and all to this song *L*
What can I say? I'm a dork.

Death Car for A Cutie - Passenger Seat
I roll the window down / and then begin to breathe in / the darkest country road / and the strong scent of evergreen / from the passenger seat as you are driving me home
It all started with that ride, didn't it? Actually, that first Beth - Giles scene was supposed to be in a library. And it was supposed to be in a flashback, not in a time-travel ep. But it worked how it worked, and I suppose it worked fine...

Anthony Stewart Head - Talk to you
It lasts for a heartbeat / But it's such a feeling of being one / When we talk on the phone / You make me complete
There had to be an ASH song in the mix, right? And look! It's a phone song! *giddy*

John Mayer - Split Screen Sadness
One hand on the trigger of a telephone / Wonderin' when the call comes / Where you say it's alright / You got your heart right
The second of the 'phone songs'. What can I say? It's the greatest phone-romance I've roleplayed. Well, the only one, but shh.

Beck - Lost Cause
There's too many people you used to know / They see you coming they see you go / They know your secrets and you know theirs / The town is crazy but nobody cares

K.D. Lang - Hallelujah
It goes like this / The fourth, the fifth / The minor fall, the major lift / The baffled king composing Hallelujah
I've made a video to this song, too, only in other version. I like this one though.

Rascal Flatts - Bless the Broken Road
I set out on a narrow way many years ago / Hoping I would find true love along the broken road / But I got lost a time or two / Wiped my brow and kept pushing through
a time or two...? Ya know that Beth/Giles is a recent development that wasn't supposed to happen? I cross my heart, it was supposed to end with 'the French Kiss' ep. But you (cala and khal) seemed to like the soap-operaness and the comedy that was Beth/Giles... So I've decided to give it a go, and have my Mary Sue fun.
But well, Scott was the first on a list to be with Beth... we know how did *that* turned out. And Roger somehow ended up a stupid prick, have no idea how.. *L*

Straylight Run - Sympathy for the Martyr
You just can't...ever win / convinced there's a war on, it's everybody versus you / convinced that your critics are watching / and you've always got / you've always got something to prove

Kelly Clarkson - Miss Independednt
Miss independent / Miss self-sufficient / Miss keep your distance / Miss unafraid / Miss out of my way

Damien Rice - Blower's Daughter
And so it is / The shorter story / No love, no glory / No hero in her sky

Aimee Mann - Wise Up
It's not / What you thought / When you first began it / You got / What you want / Now you can hardly stand it though

Eels - I need some sleep
I need some sleep / You can't go on like this / I try counting sheep / But there's one I always miss
Ah, the Great Insomnia... that was the fun thing to play...

Ben Folds Five - Magic
From the back of your big brown eyes / I knew you'd be gone as soon as you could / and I hoped you would / we could see that you weren't yourself

Tasmin Archer - Somebody's Daughter
I'm breaking the frame / each day's the same / you should be somebody's daughter / day after day
No, No Daddy Issues, why do you ask?
On the Behind-the-scenes notes. Beth's father was supposed to be called Michael, and be dead. With Excalibur storyline came the other idea... Oh, plus I got a kick from the singer being name Archer *L*

No Doubt - Magic's in the Make-up
Can you tell I'm faking it? / But I want to be myself. / A counterfeit disposition / Can't be good for my health

Lisa Loeb - I control the Sun
I pushed every button / I pulled every string / I've tried every lever / I've tried everything</font>

Phantom Planet - Know it All
You place something hight enough / The harder it can fall / But you knew that / You're a know it all

Built to Spill - You Were Right
You were right when you said / We're still running against the wind / And life goes on after the thrill of living is gone / You were right when you said / This is the end

K's Choice - Every Breath You Take
Every breath you take / Every move you make / Every bond you break / Every step you take / I'll be watching you
Can't do a soundtrack for a Watcher without that official Watcher (or rather, Stalker) song, can I? So, here it is, less known cover by K's Choice.

Dresden Dolls - Perfect Fit
I used to be the bright one / Smart as a whip / Funny how you slip so far when / teachers don't keep track of it


That would be all. Tune in next week for Morrigan Anderson's soundtrack.