Because she whined, soundtrack of
cala_jane is here earlier.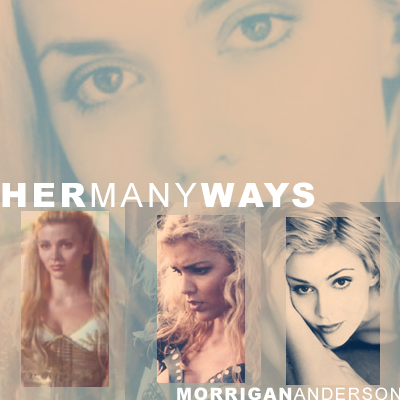 Morrigan Anderson. An Old One, Hellgoddes, demon and GodQueen. Demon whose power was used to create the Slayer Line. Yes, she is even more of a Mary Sue than Beth is. But who cares?
Recently gifted/cursed with a soul (epidemy, yeah), married (to a secret agent Michael Knight), raising a kid (William).
Died once. Happens, apparently. Still kicking.

1. Enya - Tempus Vernum
introduction of an Old One in her heyday. Suits her, really.

2. Meredith Brooks - Bitch
I'm a bitch, I'm a lover / I'm a child, I'm a mother / I'm a sinner, I'm a saint / I do not feel ashamed / I'm your hell, I'm your dream / I'm nothing in between

3. Malcolm McLaren - About Her
Well no one told me about her / The way she lies / Well no one told me about her / How many people cried

4. Disturbed - Violence Fetish
You are a timebomb ticking away / You need to release / What you're feeling inside / Let out the beast

5. Jack off Jill - When I am Queen
When I am queen on royal throne made out of parts of broken bones / of all the devils I have known that suck the angels dry

6. Guster - Demons
When I speak I cross my fingers / Will you know you've been deceived? / I find a need to be the demon / A demon cannot be hurt

7. Cliff Richard - Devil Woman
Give me the ring on your finger / Let me see the lines of your hand / I can see me a tall dark stranger / Giving you what you hadn't planned

8. Matchbox 20 - Disease
Feels like you're making a mess / You're hell on wheels in a black dress / You drove me to the fire / And left me there to burn

9. Hall and Oates - Maneater
I wouldn't if I were you / I know what she can do / She's deadly man, and she could really rip your world apart / Mind over matter / The beauty is there but a beast is in the heart

10. Dido - I'm No Angel
I'm no angel, but does that mean that I can't live my life / I'm no angel, but please don't think that I can't cry oh / I'm no angel, but does that mean that I won't fly

11. Joan Jett - Bad Reputation
I've never been afraid of any deviation / An' I don't really care / If ya think I'm strange / I ain't gonna change / An' I'm never gonna care / 'bout my bad reputation

12. Marron 5 - the Sun
The rhythm of her conversation / The perfection of her creation / The sex she slipped into my coffee / The way she felt when she first saw me / Hate to love and love to hate her / Like a broken record player

13. Tracy Bonham - Behind Every Good Woman
Don't know where where it started or when it will end / Behind every good woman lies / A trail of men. a trail of men / You wouldn't believe the mess she's in

14. U2 - Elevation
A mole / Digging in a hole / Digging up my soul now / Going down, excavation

15. Train - Drops of Jupiter
Tell me did you sail across the sun / Did you make it to the milky way to see the lights all faded / And that heaven is overrated

16. Portishead - Glory Box
Give me a reason to love you / Give me a reason to be ee, a woman / Its all I wanna be is all woman

17. Aimee Mann - Humpty Dumpty
Baby, I bet you've been more than patience / Saying it's not a catastrophe / But I'm not the girl you once put your faith in / Just someone who looks like me

18. Natasha St. Pier - Tu Trouveras
Mes blessures et mes faiblesses / Celles que j'avoue qu'Á demi-mot

19. Heather Small - Proud
I look into the window of my mind / Reflections of the fears I know I've left behind / I step out of the ordinary / I can feel my soul ascending / I am on my way / Can't stop me now / And you can do the same

20. Sarah McLachlan - Elsewhere
I believe / This is heaven to no one else but me / And I'll defend it as long as I can be / Left here to linger in silence / If I choose to / Would you try to understand


tune in next week for Hate Kallias' ost.